Join me online & in person for Yoga & Meditation
CLASSES | PRIVATE SESSIONS | MEDITATIONS
I have taught Yoga as a full time job for over 20 years now,  my offerings have varied from Dynamic Flow classes to Restorative Yoga, I have specialised in pregnancy & birth,  taught everyone – young, older, beginners, advanced to teachers and at a number of health clubs, corporate companies as well as schools and even a prison and Yoga studios across London and globally. Who knew these extraordinary times right now  would be continuing and effect the global community in the way they have.  As we enter into 2022 I have decided that my weekly classes will be offered online until March 31st and I will pause teaching in person at the various health clubs and studios I have taught at for years . Online live classes are offered weekly until the end of March.  Some monthly classes courses and workshops will be added toon and under the "Yoga courses and events" section of this website you may also find one off special events.
I will be offering recorded materials soon as weekly classes pause from 31st March 2022 .
**Look out for one off events , monthly workshops and courses ** COMING SOON 
***SPECIAL JUNE SCHEDULE FUNDRAISING CLASSES FOR CANCER RESEARCH ****
Weekly Mindful Yoga Class | Online BY DONATION ONLY https://fundraise.cancerresearchuk.org/page/louises-yoga-challenge-giving-page-14
Thank you everyone who contributed to my fundraising effort. I am delighted to say we raised over £1,000 in total. The donation page is still open of you feel inspired
TUESDAY EVENINGS Online Live classes suspended until further notice
EVENINGS (usually Wednesday and monthly) Online Live NEXT CLASS 16th November 2022

THURSDAYS MORNING (summer) & EVENINGS (Monthly) Online Live classes back later in 2021
SATURDAY MORNINGS Online Live classes Last class 26th March 2022 until further notice
All classes are live and we are currently using Zoom which you can download free to your laptop, tablet or mobile. 
Access guidelines for class and helpful tips here.
The Zoom room will be open from 10 minutes before start time. You are welcome to arrive from then  just as you would to a class to set up your mat and settle and of course test the connection so that you can see and hear me well 
1:1 TAILORED YOGA THERAPY & mEDITATION
Private classes can be offered on a once off basis or as a regular class. Offering those who do not have the ability to come to a group class or wish to embark on their Yoga discovery in a private way, an opportunity to do so and a number of classes can be arranged to suit individual needs and objectives.
As a qualified Yoga Therapist offering Yoga for therapeutic purposes I can tailor a programme for specific physical issues and/or support you as part of a general rehabilitation programme designed by your GP or physiotherapist. I am very knowledgeable about anatomy and movement principles . My expertise tends to be in the following areas:
Personal Yoga for managing stress
Personal Yoga for good health and posture alignment
Personal Yoga for pregnancy, birth and postnatal (I have extensive post graduate training in Yoga for pregnancy birth and beyond)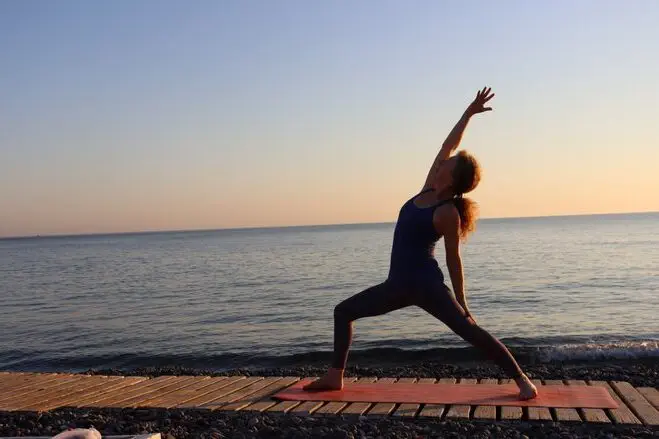 Contentment is here and isn't it great
Contentment is the sunshine when I awake
The fresh air, green grass, a beautiful lake
The laughter in a small child 's voice
Sportsmanship and collective groups as they rejoice
The smile on a loved ones face
The smile on anyone's face – lighting up their eyes
The hugs and kisses of hello, the hugs and kisses of goodbyes
The ocean, the waves, the gulls on the breeze
My cat as she meows oh food, lots of love yes please
Yes please, more love always
Laughter and chocolate, movement with grace
Slowing down and down to a snail's pace
Running around doing things hectic and fun
Being alive, in the rain, snow or sun
Enjoying now, reflecting the past
Opposites unite, bringing harmony at last
Loving and giving are good things to be
Show your compassion and you'll be amazed to see
Just how the world will then reciprocate
Your life well lived, loved and fulfilled
Contentment is here and isn't it great
Do I need to have done Yoga before?
The online classes are suitable for different levels of experience from beginner to more experienced but are not recommended for complete beginners, some knowledge of Yoga postures and breathing, however 'rusty' or little, is needed. If you have not practised with me before please get in touch prior to booking. If you have not done Yoga before please contact me and we can discuss the most suitable class or another teacher/class
Yoga Nidra classes and meditation is open to everyone
If you are booking a course you are required to fill out health/medical information when booking. However, if you are trying a class or are a drop-in student please inform your teacher if you suffer from very high blood pressure, heart disease, retinal problems, epilepsy, have a joint replacement or recently undergone any major surgery, it is always wise to consult your doctor prior to beginning a Yoga programme. If you are menstruating heavily it is recommended that you avoid inverted postures, please refer to your teacher.
What to bring- Yoga equipment and alternatives​
A Yoga mat is a good starting point. We have compiled a list of alternatives to regular Yoga props, if you don't have any, here.
For Yoga Nidra it is a good idea to have a bolster or bolster alternative, a blanket or another suitable covering, support for your head. For meditation please have something to sit on to remain comfortable and relaxed 
Wear loose fitting, easy-to-move-and-stretch in clothes. Just like you would in a venue. Also something warm for relaxation time i.e. socks and a fleece. I recommend you wear "layers"!
Avoid a heavy meal prior to Yoga practice and do not eat anything for at least one to two hours prior to practice. If this is not practical (especially in the case of pregnant women) please try and eat only something light- only a small amount of food that is easily digestible
Arrive in good time for your class, but no more than 10 minutes before the start. If you arrive more than 15 minutes late for your class, we may be unable to let you in as the waiting room function may be on
Listen to your own body-don't force yourself into any of the postures or force your breath-relax and enjoy.
If you find that you cannot attend a class that you have booked, it is helpful if we know in advance that you are not coming so please let us know.